Artist's Statement
"My drawings/photographs search the present moment; my paintings search for moments past."
Images in Hartman's paintings and photography generally explore colour, place, and memory. The intuitive, expressionistic paintings capture a feeling, an imperfect memory or observation. When an image is inspired by a photograph, the aim is to convey what it cannot.
Images invite the viewer to complete the thought or emotion using their own experiences. An early focus on portraiture has evolved into images of often anonymized figures, with the "no face" or "back view" motif to reflect the universal within our individuality.
Portfolio
This website is intended as a small online portfolio containing samples of series work, mostly paintings and drawings, but also some non-series work, sculpture and photography.
Thematic work is also demonstrated in selected solo exhibits by clicking HARTMAN or titles above.
Social Media
Hartman| Facebook Watered Art - events, photos, themes du jour.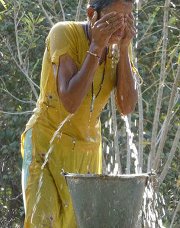 After a 1989 wilderness trip to the Arctic floe edge restored Hartman's artistic muse, she returned to formal fine art study for 3 years and from her 26 Lennox Street studio in Toronto's Mirvish Village she began the series work shown in this portfolio.
The Lennox street studio, which she converted to Hartman Studio Gallery for exhibits, was her base for over 15 years. She co-founded the annual Bathurst Annex Studio Tour which ran until 2004 and regularly hosted interactive exhibits as part of Toronto's Artsweek Festival until it ended in 2005. In 2006, Hartman's paintings were exhibited in Yorkville as part of Toronto's inaugural nuit blanche.
As part of CONTACT, Toronto's annual photography festival, Hartman held interactive exhibits in her Lennox studio/gallery. For CONTACT 2007's Constructed Image theme, bob65 featured her photographs of Bob Dylan taken in 1965, and again in 2006 when he was 65. For CONTACT 2010's Pervasive Influence theme, candid travel photographs of streets and royalty around the world were featured in LENS - Looking Everywhere, No Secrets an exhibit which challenged notions of personal privacy with perpetual video surveillance and black barred mug shots which became an 'anonymized' digital poster, called LENS.
Hartman continues to participate in group and solo shows, in juried, invitational and indie contexts. Her work has been exhibited in North America and Europe with her online portfolio referenced internationally. She is a member of the artist-run Gallery 1313 in Toronto and does volunteer work in the Prints and Drawings Department of the Art Gallery of Ontario.
Photography continues to inspire her thematic work, as well as the concept of 'self' and 'identity' in the tethered world of technology.