Moonlit Harvester
Acrylic/Canvas (18"x24"/45.7x60.9)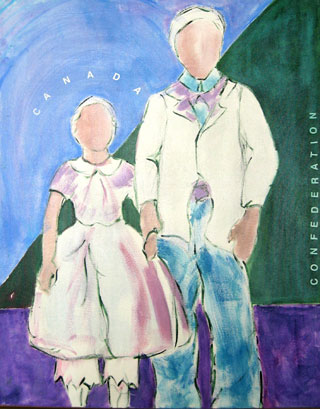 The Confederates
Acrylic/Canvas (24"x30"/60.9x76.2)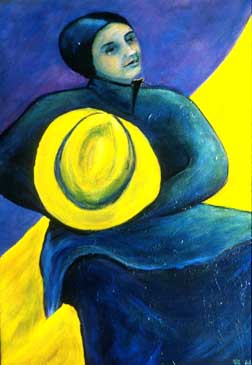 Pioneer of Queen's Bush
Acrylic/Canvas (18"x24"/45.7x60.9)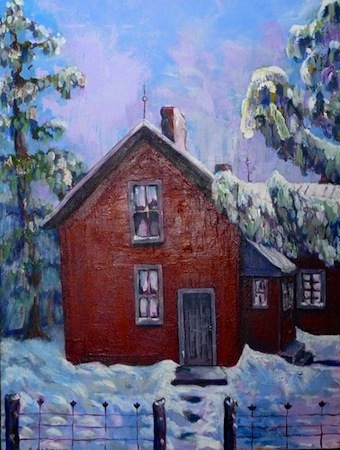 Homestead, Queen's Bush
Acrylic/Canvas (18"x24"/45.7x60.9)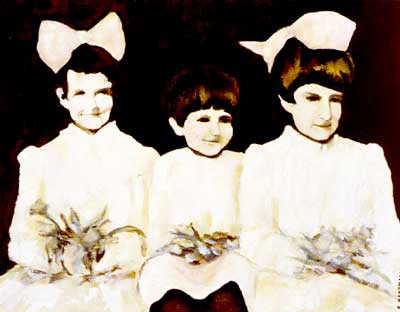 Cousins - c. 1920
Acrylic/Canvas (18"x24"/45.7x60.9)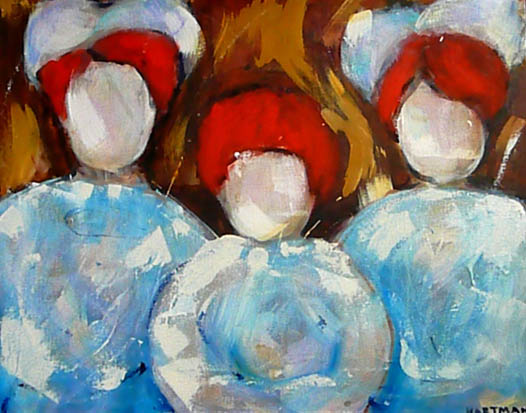 Cousins Three
Acrylic/Canvas (18"x24"/45.7x60.9)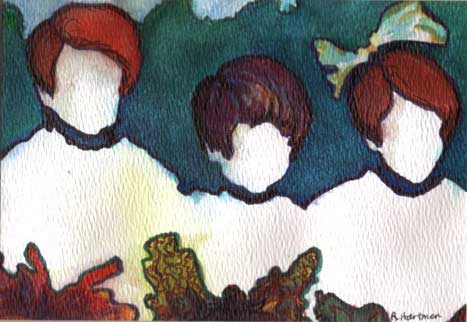 Three girls
Watercolour (5"x7"/12.7x17.8)

Sisters
Acrylic/Canvas (24"x30"/60.9x76.2)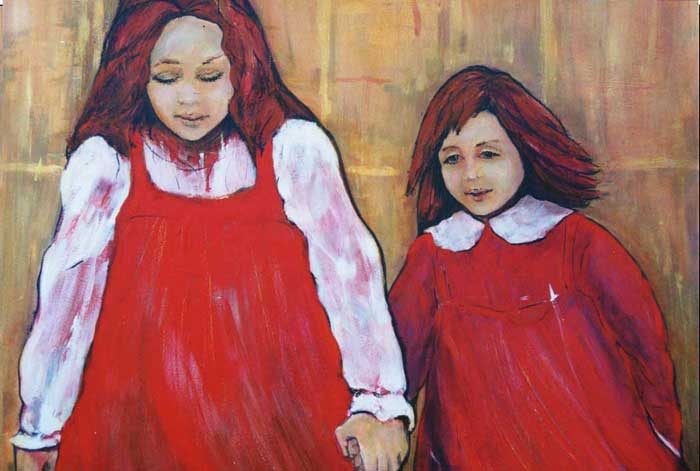 Red Cousins
Acrylic/Canvas (24"x30"/60.9x76.2)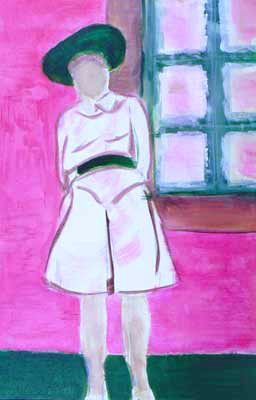 Daisy/Expectation
Acrylic/Canvas (18"x24"/45.7x60.9)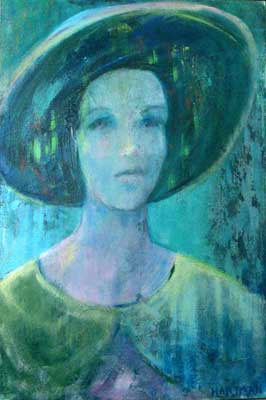 Magnolia/Resignation
Acrylic/Canvas (20"x30"/50.8x76.2)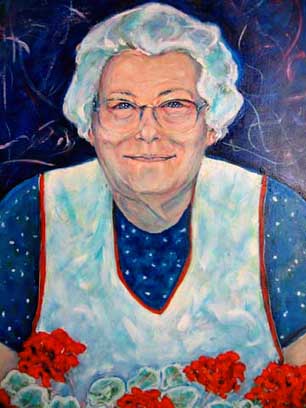 Geranium/Joy
Acrylic/Canvas (18"x24"/45.7x60.9)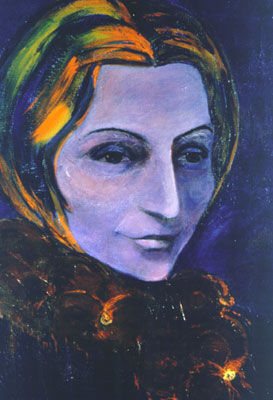 Weschmater
Acrylic/Canvas (16"x20"/40.6x50.8)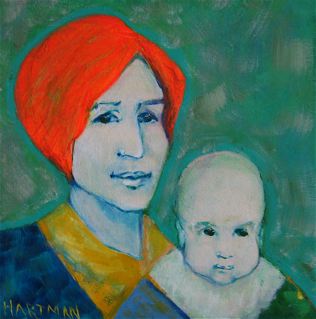 Ma-ternity
Acrylic/Canvas (12"x12"/30.5x30.5)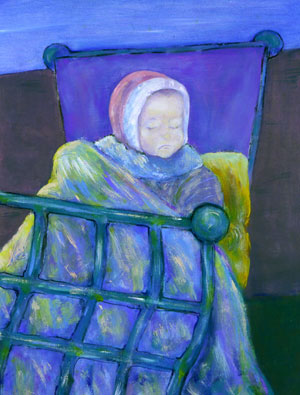 In-Fancy
Acrylic/Canvas (18"x24"/45.7x60.9)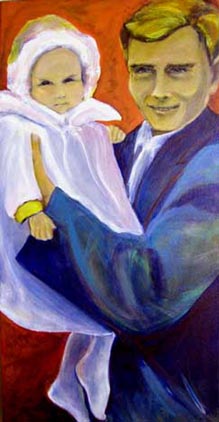 Big Brother
Acrylic/Canvas (10"x20"/25.4x50.8)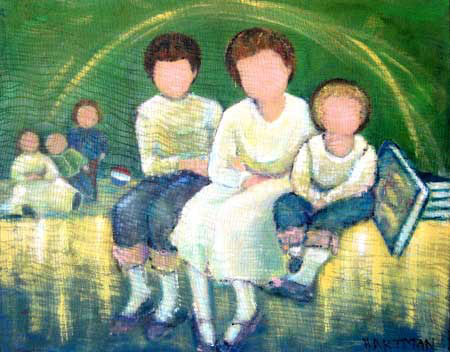 Rubberball
MixMedia/Canvas (22"x28"/55.9x71.1)
Stable Kids
Acrylic/Canvas (20"x20"/50x50)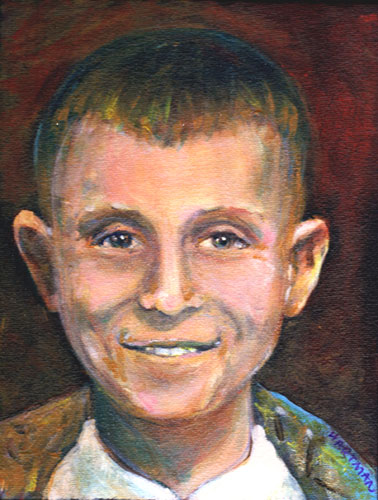 Neustadt1
Acrylic/Canvas (7"x9"/17.7x22.8)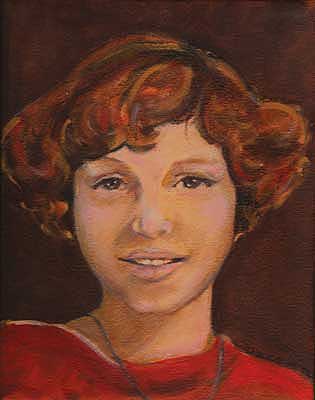 Neustadt2
Acrylic/Canvas (7"x9"/17.7x22.8)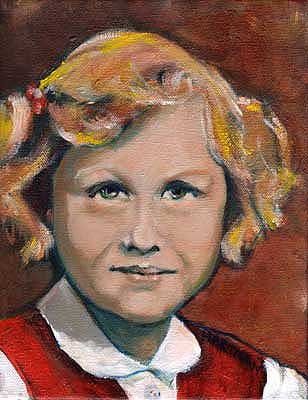 Neustadt3
Acrylic/Canvas (7"x9"/17.7x22.8)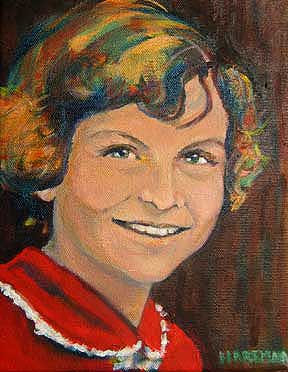 Neustadt4
Acrylic/Canvas (7"x9"/17.7x22.8)
Confirmation
Acrylic/Canvas (10"x12"/25.4x30.4)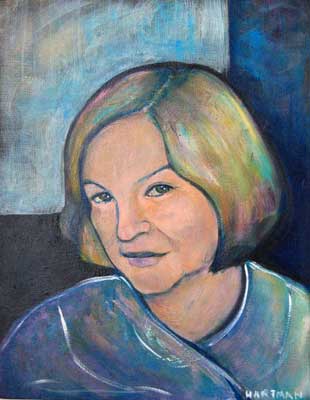 Not Dark Yet
Acrylic/Canvas (14"x18"/35.6x45.7)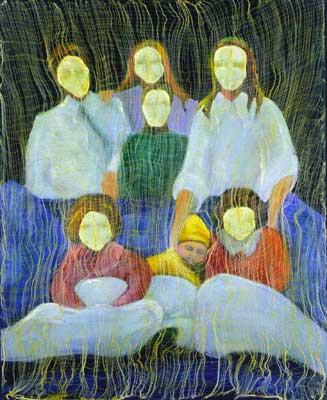 Sib-line Sleep
Acrylic/Canvas (18"x24"/45.7x60.9)
This series of paintings and drawings began in 1997, as a result of earlier documenting and ongoing inquiry into the lives of my paternal and maternal ancestors in pre-confederation Canada.

The use of "no faces" in this series was initially to portray what is not known of my ancestors and became a motif for shared or universal heritage. Drawings from the series can be found here.

My ancestors on both sides originated for the most part in the Germanic duchies of 19th c. feudal Europe, and had centuries of woodland and farming experience and skills.

In the 1850s, alone or with young families, they endured weeks and months below deck in steerage crossing the Atlantic under sail to reach Quebec City in French-speaking Lower Canada. They hoped to find their way to Queen's Bush in Upper Canada. The British held out the promise of land ownership if stringent conditions were met: clear the bush and harvest the desired crops in quantity within a year or forfeit the down payment.

The Queen's Bush was located on a large portion of Saugeen Anishnaabek ancestral land, south of the Saugeen/Bruce Peninsula, opened to settlers under the Saugeen Tract Purchase of 1836 or Treaty 45 1/2. My ancestors' lots were within what became Normanby Township, located along the southern borders of Grey and Bruce County today.

The settler/pioneer days of my ancestors were consumed with the need for homestead self-sufficiency but also with the desire for community. Without a language in common with English, Gaelic or Saugeen Objibway, the practicalities of bush life served as interpreter and impetus for finding community among strangers. Neighbour to neighbour, my ancestors shared life in the bush with Irish, Scots, and in the settlement of Nenagh, with Saugeen Ojibway and black families.

In the late 1850s, life expanded beyond the homestead, with more German settlers arriving. My ancestors became charter founders of schools, such as SS#5, and Lutheran churches, joining with others to create the communities of Neustadt and Ayton.

The lives of my ancestors, now bracketed by birth and death, affirm continuity but also the finite space we all occupy. This series has evolved to include the 20th century and an exploration of images from my own past.