About the Artist
The artist is informed by her lived experiences, which include aspects of three centuries: 19th - as a child living in ancestral rural Ontario before electricity, running water and indoor plumbing; 20th - as a suburban working teen and urban adult immersed in Toronto's bohemian counterculture (art school/Rochdale College/Coach House Press) and activist in media and law; and 21st - as a Toronto-based artist in the age of algorithms, oligarchs, and the commodification of everything.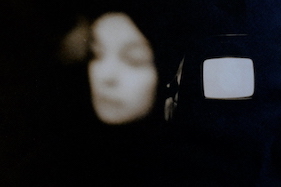 1973 Int'l Women & Video Festival [Jim Lang]
After co-founding Liberation Media, broadcasting and touring conciousness-raising videos in the feminist Second Wave, the artist became a lawyer to work toward gender and equality rights. Having no interest in the lawyer lifestyle, she practised poverty law and established a freelance adjudicative practice in human rights and employment law to allow time to continue her art practice, raise her children, and pursue her lifelong curiosity through independent adventure travel.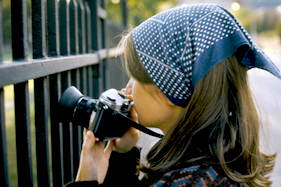 1974 gates of Osgoode Hall [Nelson Adams]
After a 1989 wilderness trip to the edge of an Arctic ice floe restored her artistic muse, she returned to formal fine art study for 3 years and began the series work shown in this portfolio in her 26 Lennox Street studio in Toronto's Mirvish Village.
Hartman's Lennox Street studio/gallery was frequently opened to the public for interactive exhibits as part of Toronto's Artsweek Festival until 2005 and from 1998 to 2004 as part of the annual Bathurst Annex Studio Tour, which she co-founded. In 2006, she was part of Toronto's inaugural nuit blanche in a Yorkville exhibit.
Hartman's paintings, drawings and photographs have been exhibited in solo and group shows locally on a regular basis, as well as internationally in Barcelona in 2003 and Florence in 2005, and elsewhere.
Hartman's photography has been part of Toronto's annual Scotiabank CONTACT Photography Festiva1 on three occasions.
In 2007, in her bob65 exhibit, referencing the festival's Constructed Image theme, Hartman's photos of Bob Dylan taken in 1965, and in 2006 when he was 65, explored image and identity.
In 2010, in her L.E.N.S - Looking Everywhere, No Secrets exhibit, referencing the festival's Pervasive Influence theme, Hartman's candid photos of people (common and royal) taken on streets around the world explored ideas of privacy and anonymity. Visitors were notified of perpetual video surveillance. Some chose anonymity by donning the proverbial black bar for a 'mug shot' and the post-show digital poster titled Anonymous and Proud.
In 2021, in Camera Solo, a virtual exhibit referencing the festival's 25th anniversary, Hartman looked back on 5 decades of pressing the shutter, choosing 25 photographs to reflect on human impermanence and earthly fragility.
About the Art
"In drawings and photographs I search the present moment and in my paintings, moments past: I draw to see, I paint to discover."
Colour, place and memory inform Hartman's paintings. Where inspired by a photograph, the aim is to convey what a mechanical lens cannot.
The intuitive, expressionistic paintings capture a feeling, an imperfect memory or observation and invite the viewer to complete the thought or emotion using their own experiences.
The use of the "no face" or "back view" motif is intended to convey the universal within the individual.
Photographs are a chance capture, and drawings, a line interpretation of colour, place and memory.

Email the Artist for further information about her work or availability of archival prints of her images.
Lennox Street Studio | Hartman Studio Gallery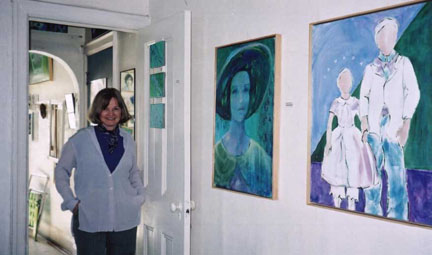 26 Lennox St. Studio #1 [Sheila Whincup]
The Lennox Street studio, converted to Hartman Studio Gallery for exhibits, was the artist's base for over 15 years. Located in the Bloor Bathurst block known as Mirvish Village, most of the buildings were demolished in 2018 to make way for a multi-storey redevelopment but the studio's south wall at the corner of Lennox and Bloor has been integrated into the design, framing the former second floor studio. [photos: interior and exterior]

South entrance wall of 26 Lennox [Fumiko Maehara]
2010 L.E.N.S. Black Bar Project Revisited
In 2019, What is T.Ruth? a solo exhibit in the Cell at Gallery 1313, Hartman revisited the subject of surveillance and private identity, updating the Anonymous and Proud poster project ten years later.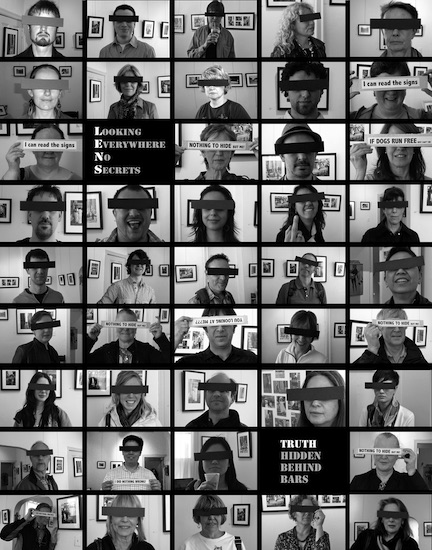 Anonymous and Proud
► back to top