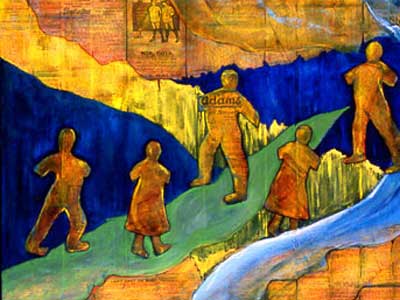 Upper Canada c. 1900
MixMedia/Canvas (24"x30"/60.9x76.2)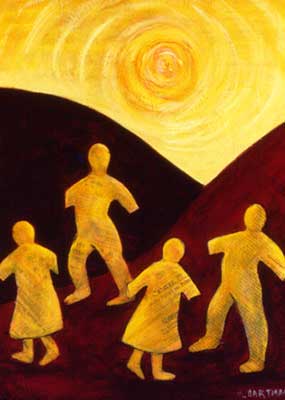 Pioneer Sunrise/Sunset
MixMedia/Canvas (18"x24"/45.7x60.9)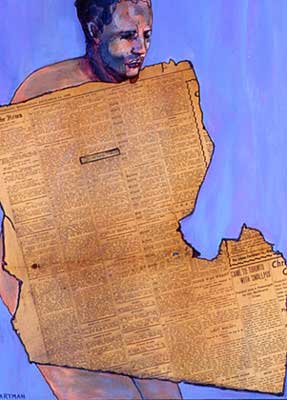 Common Sense Kills...
>MixMedia/Canvas (18"x24"/45.7x60.9)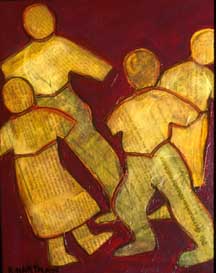 Barn Dance at Altsfeldt
MixMedia/Canvas (10"x12"/25.4x30.4)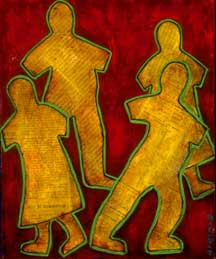 Barn Dance on Bay Street
MixMedia/Canvas (10"x12"/25.4x30.4)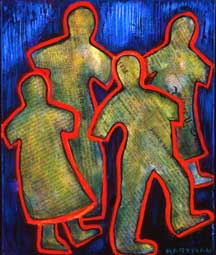 Barn Dance at Copyright Office
MixMedia/Canvas (10"x12"/25.4x30.4)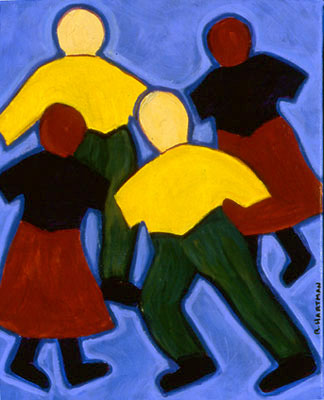 Barn Dance at Nenagh, c. 1855
Acrylic/Canvas (10"x12"/25.4x30.4)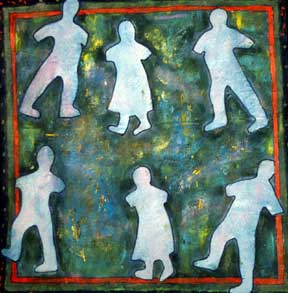 Old Time Steppin...
Acrylic/Canvas (20"x20"/58.6x58.6)


The figures in this series were inspired by a rustic whirligig found on the homestead of my ancestors. The dance motif symbolizes both the endless toil and the joy of pioneers arriving in Queen's Bush to build a future together. It also references my childhood memories of barn dances.
Some images incorporate century old newspapers to which my great-grandfather subscribed - a local newspaper (in German) and a Toronto newspaper (in English). My great-grandmother used the paper to make sewing patterns, which I received rolled in a shoebox.
The leg patterns used in Upper Canada encapsulate early Toronto life.
The shirt pattern in Common Sense Kills contains a classified ad circa 1903 for rat poison. It states: "Common Sense kills and destroys rats, mice, bedbugs. At pharmacy. No smell."
In other images, the barn-dance figures were cut from the old newspaper patterns and the isolated text inspired the titles. For example, in Bay Street, the paper refers to "demoralized" stockbrokers, and in Magistrate, the paper reports a court proceeding in which the Magistrate refers to the "glorious uncertainty of the law" in a domestic dispute.
The barn dance figures also became a painting motif, reflecting the inhabitants of some small communities significant in the area then but lost today - such as in Nenagh and Altsfeldt.